Here is a new addition to the Candy Cane Toppers.
This is my little Elf I created using the
Cricut Artiste
!
Super easy to do too! I am Working on a printable
sheet like the other toppers, but I will go ahead and
post the cutting sizes so anyone wanting to make these
can get started.
**Go to the Template Tab and you will find printable
direction sheet.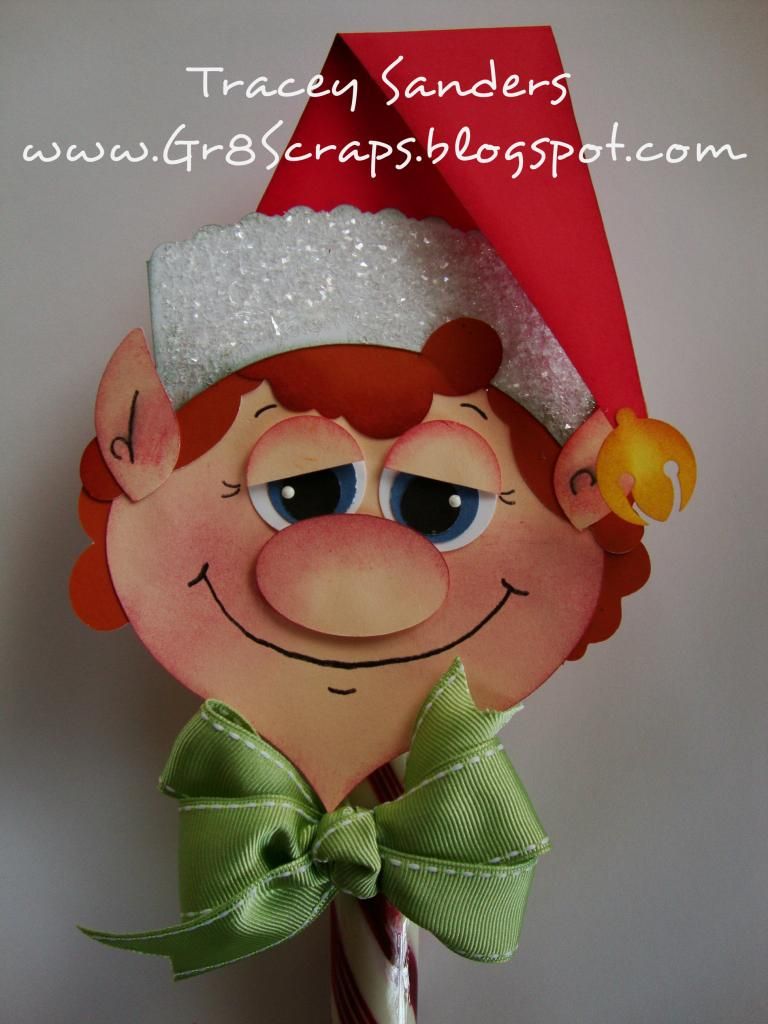 ELF Jumbo Candy Cane Topper




All supplies used are CTMH unless otherwise

Stated.

Supplies:

Cardstock- Parchment,Holiday Red, Autumn Terracota, Sunflower, Black,White Daisy, Indian Corn Blue

Cricut Artiste Cartridge

, Jumbo Candy Cane, Glitter.

Directions:

Head (Pg 79 - 3D shape ornament cut at 5")

Parchment CS

Ears ( Pg 54 - "F" accent 4 cut at 3/4" x2)

Parchment CS

Nose ( Pg 36 - "6" accent 2 cut at 1" ) Parchment CS

Hair (Pg 70 - "Happy Birthday accent 4, cut at

1-1/4") x3 -Autumn Terracota CS

Hat ( Pg 61 - "Z" Shift, 3D Object, cut at 14")

Holiday Red CS

Hat Brim ( Pg 70 - "Happy Birthday" accent 4.

cut at 1-1/4") White Daisy CS

Eyes ( 1" punch, then cut in half-Parchment,

Cut 2, White Daisy, 3/4 circle Indian corn

blue x2, 1/2" circle Black x2.

After all pieces are cut, begin accenting the edges with ink pads to get the

shading you like. I used HollyHock Ink to create the cheeks and nose colors.

Attach the nose ( I bumped it up a bit), then assemble the eyes and attach

just behind the nose. Dry fit the hair around the face before attaching the

white brim.

You will need to trim the brim (cupcake liner) so it doesnt look so much

like a sailor hat. I cut the angle off.

Then attach your ears, and then fold the red hat and attach behind the brim.

Glitter the Santa hat and attach the bell( I used the Marvy Bell Punch).

And lastly put the twinkle in his eye, and draw the mouth and inside of ears,

and eyebrows.

Attach to candy cane with a super glue dot.

EASY!!

Also I took him a little bit further and created the whole body for this cute little fellow!

His body was also made with the Artiste Cartridge, even the boots and the furry cuffs (cupcake shape cut at 1-1/4")

except for his arms and legs, which were cut using the

Art Philosophy (long skinny oval).

His little green outfit was cut at 5" with the shield shape.